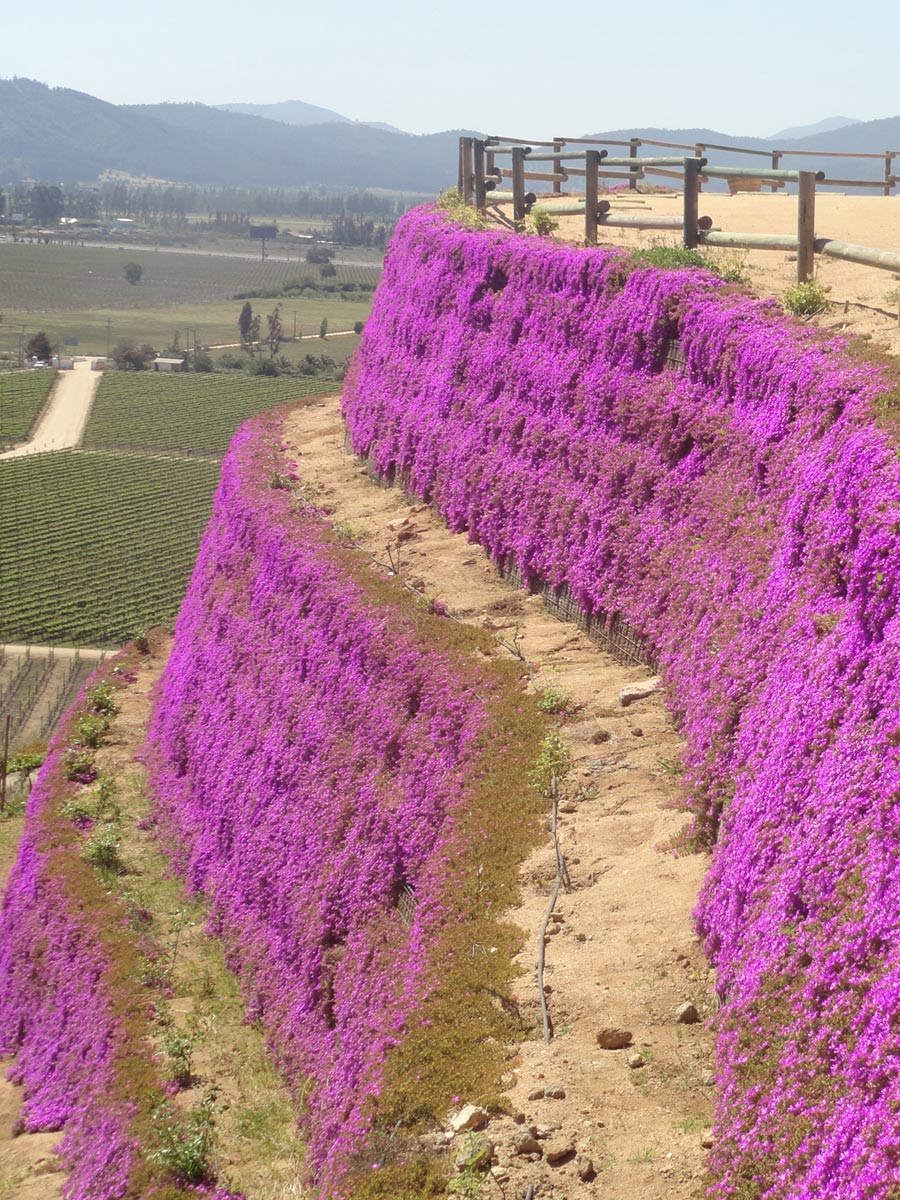 RIVEL SYSTEM
Reinforced steep slopes with green face
The Tenax Rivel system enables the creation of reinforced steep slopes with green face that can be used for slope enlargement, landslide stabilisation, construction of road and railway embankments, rockfall barriers, noise barriers, containment embankments.
RIVEL SYSTEM
Reinforced steep slopes with green face
Description

Components

Applications

Download
Integrated reinforce system
The Tenax Rivel system enables the construction of structures with a face inclined up to 85° and a finish made up of lawn, climbing plants or other herbs, without using concrete. Thanks to its adaptability, it can be used both for small private works and large public works.
Works can be implemented easily and quickly, without the need of skilled workforce or particular machinery. Materials can be moved manually and the soil in site can be used as fill soil in most cases, thus saving on construction costs.
Bends and terracing can be created since the system is flexible, therefore the structure can adapt to the surrounding environment harmoniously.
Technical support at 360°
Tenax Technical Competence Center assists Designers in choosing the materials and supports them in the design activities to ensure compliance with the applicable technical regulation.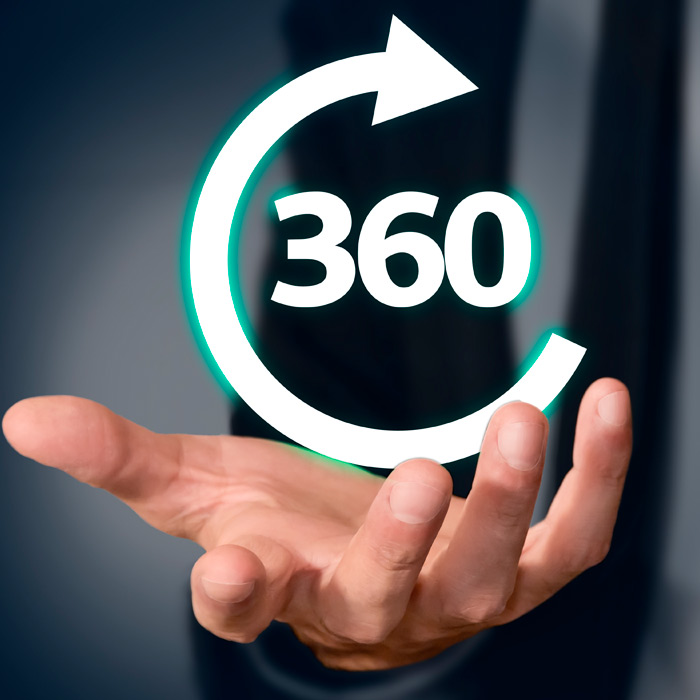 The reinforcement element is constituted by the Tenax TT uniaxial extruded geogrids in HDPE which interact with the soil and improve its mechanical performance. The soil-geogrid structure combines the compressive strength of the soil with the tensile strength of the geogrid, creating a material with improved characteristics.
The metal formworks on the face, equipped with specific retaining bars, provide guide and support during work. They are sacrificial and do not have a structural function.
Our anti-erosion mats support the revegetation of the face, allowing the growth of lawn or other suitable plants.
Tenax TT geogrids are manufactured by extruding and uniaxial stretching of high-density polyethylene (HDPE) grids; this technology produces products having important technical properties that permit their usage in structural applications.
The interlocking between soil and geogrid and the capacity to absorb stresses and redistribute them improve the shear and compressive performance of the soil.
Tenax TT geogrids are chemically inert, not attackable from biological agents, not subject to hydrolysis and can be used in many applications.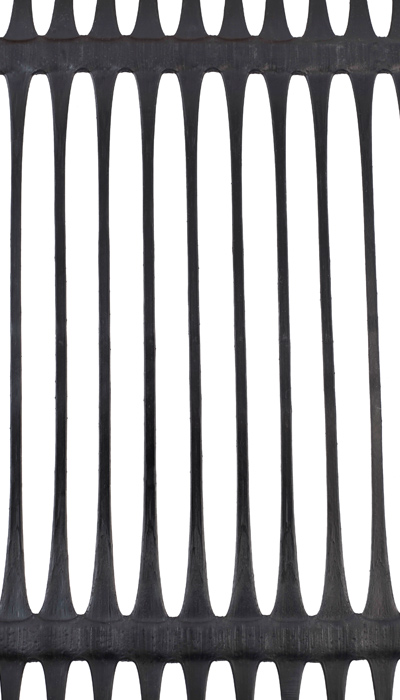 On the face of the structure, the Tenax Rivel system uses a sacrificial formwork made of electrically welded mesh acting as a guide and support. Formworks are shaped following the designed inclination, the single elements can be moved manually and are supplied with stiffening rods (1 each 0.45 m approx.)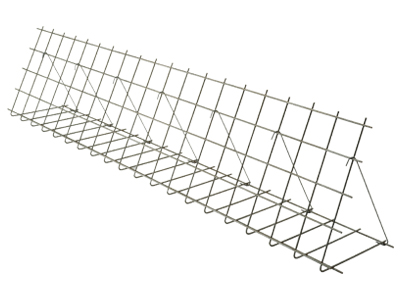 The Tenax FVP Vegetative Pre-seeded Felt is made up of natural biodegradable cellulose fibres containing seeds of grass species and fertilisers. The lawn is already viewable after some weeks from installation, while the felt naturally decomposes in the soil.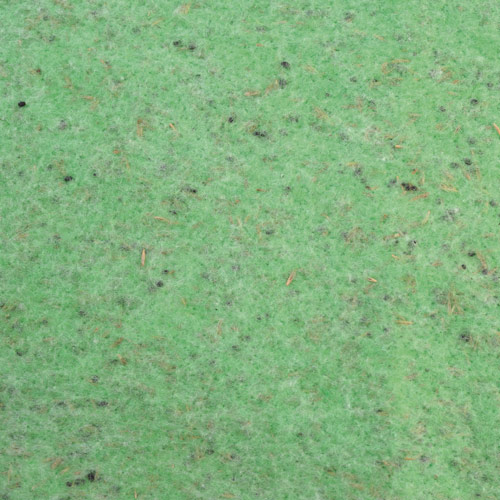 Tenax Cover Pro can be used when a revegetation with ivy or climbing plants is prefered; it prevents the washing away of the soil during the revegetation phase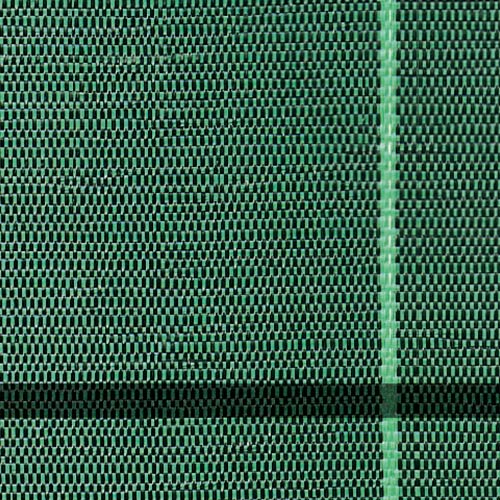 The Tenax Geojuta biomat protects the soil from erosion before the hydroseeding phase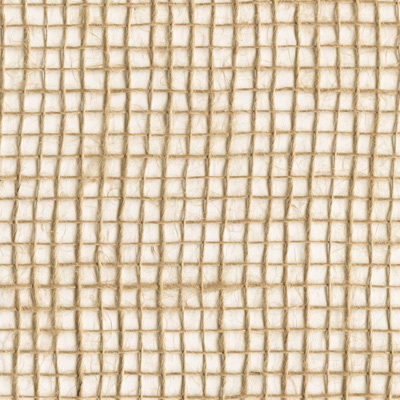 Roads and railways embankments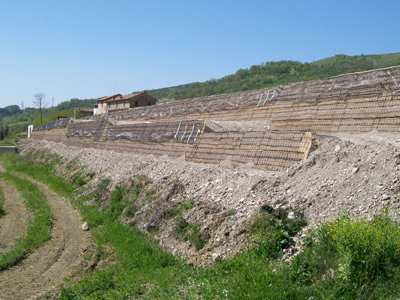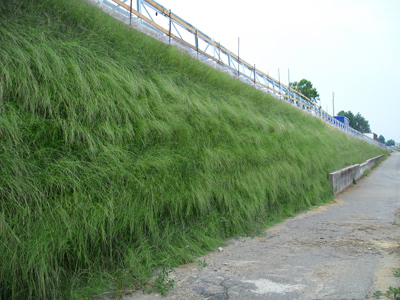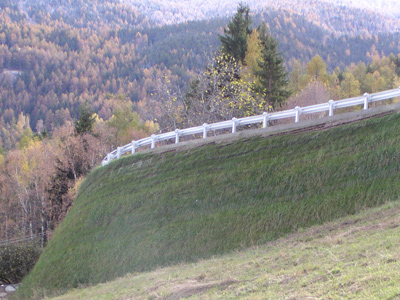 Rockfall and noise barriers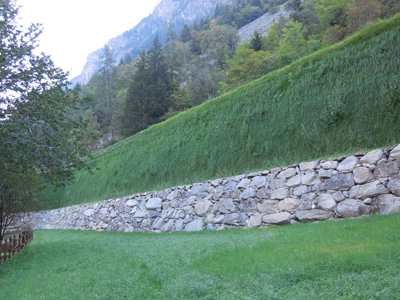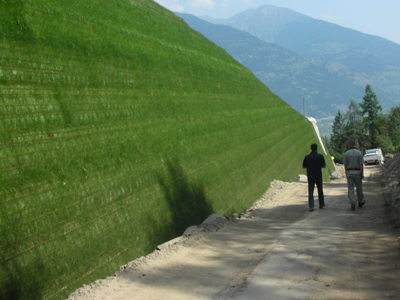 Reservoir and canals banks