New high-quality white and grey woven net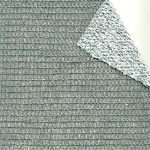 High-quality screening mesh with white-and-grey coloured 100% virgin HDPE flat weave. The double weave results in an elefant melange effect, high tear resistance and greater screening. Double-faced, light on the front and darker on the rear side.
All the benefits of the SOLEADO mesh, squared!
Weight: 230 g/m²
UV treated
Quality made in Italy
Maximum tear resistance: you install it once and it endures forever!