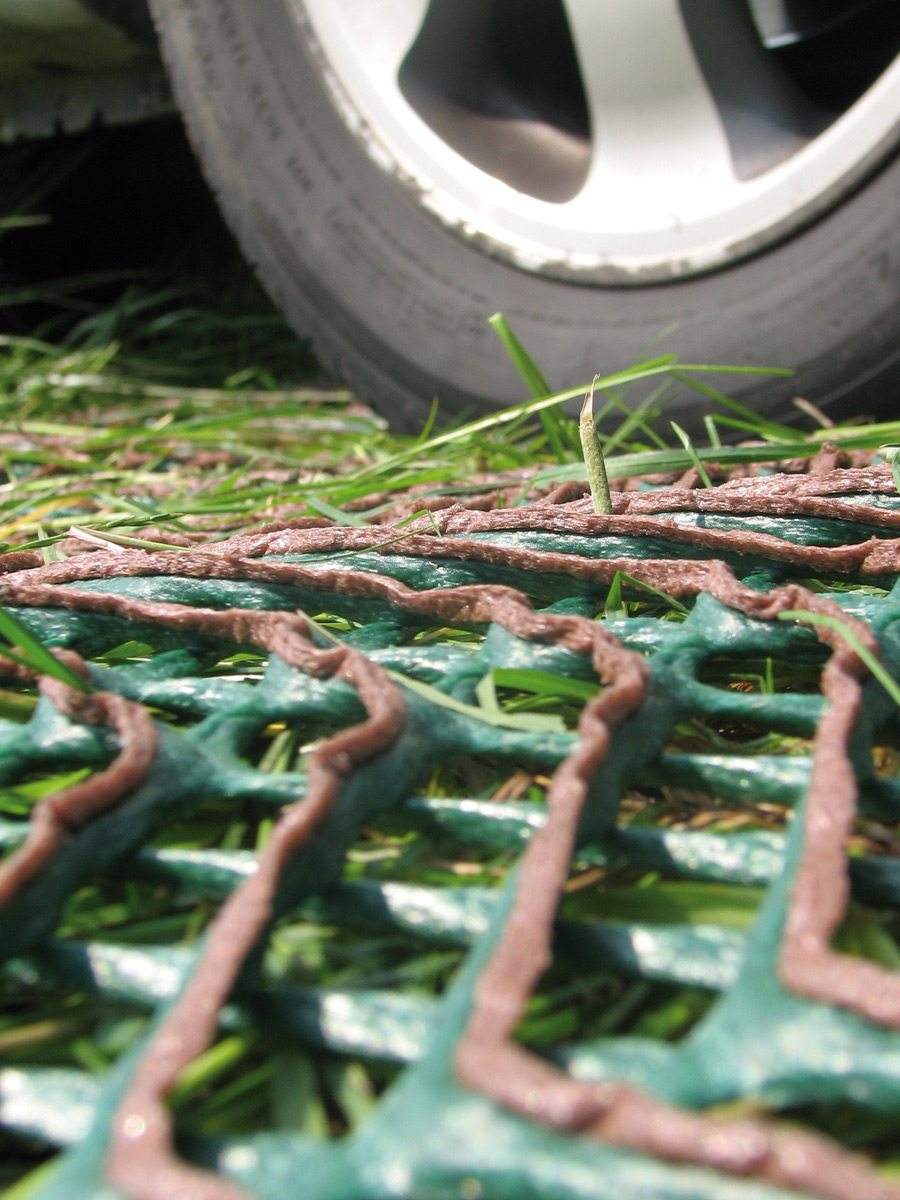 Made in Italy
GP FLEX
Reinforced grass and protected roots
GP FLEX
Reinforced grass and protected roots
DESCRIPTION

USE-ADVANTAGES

SIZE

INSTALLATION

download
Tenax GP FLEX is a new generation plastic grid for reinforcing grass subject to pedestrian and vehicular traffic both permanently and temporarily.
It is obtained through coextrusion of two polymers: High Density Polyethylene (HDPE) to give structure to the product and Ethylene-Vinyl Acetate (EVA) to increase slip resistance of vehicles while improving their traction. The "oscillated" mesh structure provides a product which is extremely flat and flexible, as well as easy to install.
The product is completely inert, both chemically (humic acids and fertilizers) and biologically (microorganisms, bacteria).
Available also in a version suitable for walkway reinforcement.
Features

*It can vary depending on the characteristics of the subgrade
Colours

Reinforcement of grass surfaces subject to pedestrian and vehicle use or heavy traffic
Green driveways
Grass protection during fairs and concerts
Garages and areas for garaging caravans
Maintenance of grass surfaces of unpaved roads, courtyards and car parks
Total chemical inertia
High thickness and weight to ensure root protection
The oscillated mesh and the EVA layer improve vehicle grip
Versions available: GP FLEX 1800 and 1400
It protects the turf
It reduces the development of ruts
Excellent aesthetic impact
Quick installation, even on large surfaces
Reusable
Trade information - GP FLEX 1800
| SIZE [m] | COLOUR | CODE | SELLING UNIT | SELLING UNITS/PALLET | EAN 13 |
| --- | --- | --- | --- | --- | --- |
| 2,00x20 | Green/Brown | 1A090471 | Roll | 4 | 8002929091116 |
Trade information - GP FLEX 1400
| SIZE [m] | COLOUR | CODE | SELLING UNIT | SELLING UNITS/PALLET | EAN 13 |
| --- | --- | --- | --- | --- | --- |
| 1,00x10 | Green/Brown | 1A100492 | Roll | 16 | 8002929094896 |
| 2,00x20 | Green/Brown | 1A090470 | Roll | 4 | 8002929091109 |
Excavate the soil to a minimum depth of 30 cm
Lay down a mixed granular terrain and procede compacting and levelling it up to 90%
Spread 2 cm of soil on the surface
Sow the lawn
Unroll and fix the net to the ground with the appropriate U-shaped nails (possibly a few hours after laying and during the hottest hours of the day)
Fill the net until it is completely covered
Wet regularly and wait for at least the third cut  before passing over it