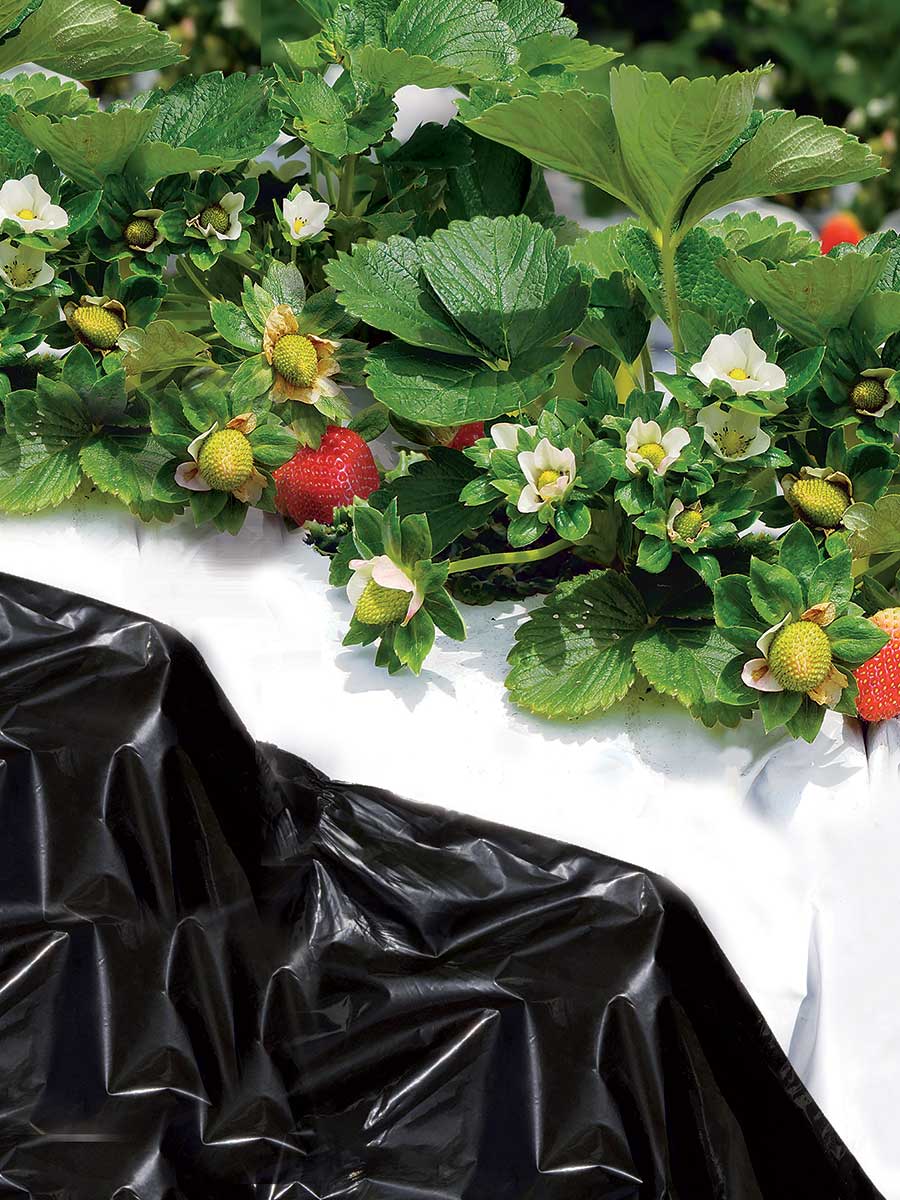 BLACK & WHITE COVER
Black and white, weed control film which speeds up crop growth
BLACK & WHITE COVER
Black and white, weed control film which speeds up crop growth
DESCRIPTION

USE-ADVANTAGES

SIZE

INSTALLATION
5 advantages, a single product
Laminated polyethylene film (40 microns): it is white on top and black underneath. The black part is in contact with the ground and prevents weed growth. The white part attracts sunlight and maintains the correct temperature, increasing plant growth and fruit maturation and, at the same time, avoiding contact with the ground.
Features

Colours

The black and white polyethylene film is suitable for:
Preventing weeds from growing
Attracting sunlight, thus supporting plant growth
Creating a cooling effect and reducing the amount of water used for irrigation
Keeping aphids away
Crops which commonly benefit from this type of film are summer salads, cauliflower and broccoli, as well as small fruits like strawberries.
Thickness: 40 microns
White on top and black underneath
Impermeable
It prevents weeds from growing in an eco-friendly manner
It enhances plant maturation
It keeps the soil temperature cooler making you save a lot of water
It does not burn young plants
Its white colour disorientate aphids
Consumer information
| SIZE [m] | COLOUR | PACKAGING | EAN |
| --- | --- | --- | --- |
| 1,40x10 | White-black | Bag | 8002929117342 |
| 1,40x100 | White-black | Roll | 8002929117557 |
Trade information
| SIZE [m] | COLOUR | CODE | PACKS/SELLING UNIT | SELLING UNIT | SELLING UNITS/PALLET | EAN 14 |
| --- | --- | --- | --- | --- | --- | --- |
| 1,40x10 | white-black | 1A150331 | 10 | Box | 100 | 18002929117349 |
| 1,40x100 | White-black | 1A150362 | - | Roll | | 18002929117554 |