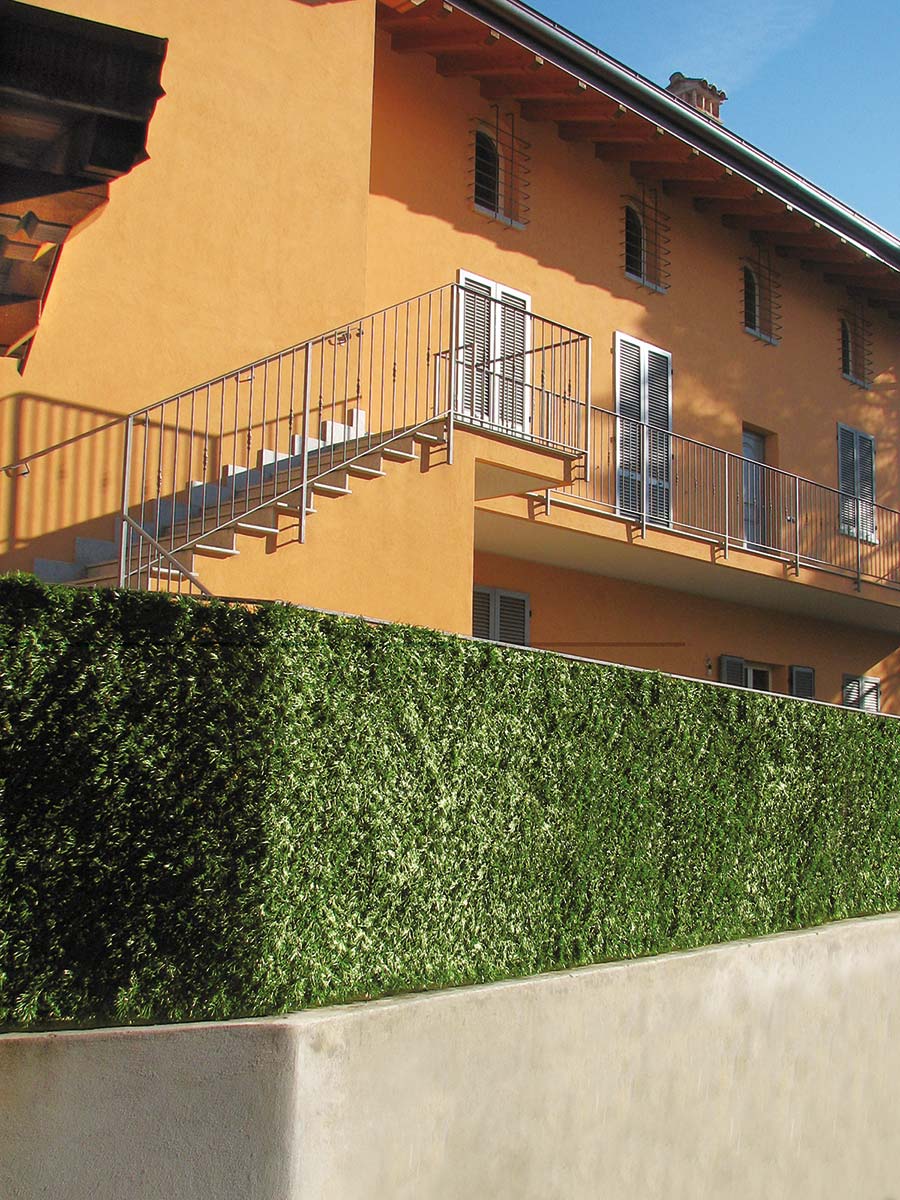 DIVY EXTRA
Highly screening hedge with fringes which looks like a natural hedge
DIVY EXTRA
Highly screening hedge with fringes which looks like a natural hedge
DESCRIPTION

USE-ADVANTAGES

SIZE

INSTALLATION
Total screening synthetic hedge for complete privacy
It is made of thin and close fringes in two shades of green stitched onto a plastic-coated wire base. The particular supporting structure with crossed threads makes it more resistant, highly covering and long-lasting as well as doubles its screening effect. Thus, it looks like a natural hedge. It is very useful to temporarily cover a fence while flowers and plants are growing. It is highly covering and it screens terraces and balconies from view.
Features

The DIVY EXTRA hedge can be used in many ways: it is ideal to quickly and inexpensively decorate any corner where real greenery cannot be used due to lack of soil, light or water.
It is ideal for renovating and decorating fences and balconies
Perfect for protecting from prying eyes
Suitable for renovating and decorating arbours and terraces
Suitable also for concealing objects, parts of terraces or walls
Artificial hedge with thin and close fringes in two shades of green
Plastic-coated wire support structure (18×54 wires in 3 m)
It filters the wind
No maintenance required
Easy to install with ties or wire
It can be washed with water
High decorative impact
With plastic-coated wire support structure
Natural effect
Covering and decorative
Consumer information
| SIZE [m] | COLOUR | PACKAGING | EAN |
| --- | --- | --- | --- |
| 1,00x3 | Green | Mini roll | 8002929088741 |
| 1,50x3 | Green | Mini roll | 8002929088758 |
Trade information
| SIZE [m] | COLOUR | CODE | PACKS/SELLING UNIT | SELLING UNIT | SELLING UNIT/PALLET | EAN 14 |
| --- | --- | --- | --- | --- | --- | --- |
| 1,00x3 | Green | 1A090215 | 2 | Box | 15 | 18002929088748 |
| 1,50x3 | Green | 1A090216 | 2 | Box | 15 | 18002929088755 |
Use the TENAX FIX-TIE ties included in the pack and available in different colours and sizes to install the TENAX synthetic hedges.
Fasten the initial part of the roll with the ties to unroll it more easily
Unroll the synthetic hedge along the surface you are going to screen placing a tie each 20 cm approximately
Fasten the final part of the hedge with the ties
TENAX synthetic hedges must be washed with water and neutral, non-abrasive detergents. To remove dust or dirt left by rain, gently clean the leaves with a cloth or a broom with soft bristles. If you want to put the synthetic hedge in its bag, the leaves must be perfectly dry before rolling the hedge up.