Made in Italy
TREPLAS
Decorative adaptable trellis
TREPLAS
Decorative adaptable trellis
DESCRIPTION

USE-ADVANTAGES

SIZE
Synthetic grid, ideal for supporting climbing flowers. Lightweight yet durable, thanks to a double reinforcement inside each slat, it is a cost-effective and decorative support. It can be easily adapted to fit different spaces, is quick to install and does not require maintenance.
Store the packaged product so it is not exposed to sunrays directly.
Features

The Tenax TREPLAS adaptable trellis can be used on walls, balconies and terraces to decorate and support climbing plants.
UV treated to keep its colour unaltered over time
High resistance and stability thanks to its special joints
Internally reinforced slats
Slat width: 25 mm
Slat thickness: 8 mm
Available in different sizes and colours
Store the packaged product so it is not exposed to sunrays directly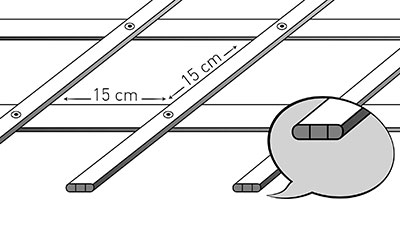 The adaptable trellis for flowers does not chip if it is cut to size
It is quick to install
The adaptable trellis adapts to different spaces
It does not require maintenance
Ideal as flower support and decorative element
Available in different colours to adapt to any house
Consumer information
| SIZE [m] | COLOUR | PACKAGING | EAN |
| --- | --- | --- | --- |
| 0,50x2 | Green | Thermofilmed | 8002929104229 |
| 0,50x2 | Brown | Thermofilmed | 8002929104311 |
| 1,00x1 | Green | Thermofilmed | 8002929104236 |
| 1,00x1 | White | Thermofilmed | 8002929104298 |
| 1,00x2 | Green | Thermofilmed | 8002929104243 |
| 1,00x2 | White | Thermofilmed | 8002929104168 |
| 1,00x2 | Brown | Thermofilmed | 8002929104182 |
| 1,00x3 | Green | Thermofilmed | 8002929104250 |
| 1,00x3 | White | Thermofilmed | 8002929104175 |
Trade information
| SIZE [m] | COLOUR | CODE | PACKS/SELLING UNIT | SELLING UNIT | SELLING UNIT/PALLET | EAN 14 |
| --- | --- | --- | --- | --- | --- | --- |
| 0,50x2 | Green | 1A120296 | 10 | With plastic straps* | 60 | 18002929104226 |
| 0,50x2 | Brown | 1A120305 | 10 | With plastic straps* | 60 | 18002929104318 |
| 1,00x1 | Green | 1A120297 | 10 | With plastic straps* | 78 | 18002929104233 |
| 1,00x1 | White | 1A120303 | 10 | With plastic straps* | 78 | 18002929104295 |
| 1,00x2 | Green | 1A120298 | 5 | With plastic straps* | 100 | 18002929104240 |
| 1,00x2 | White | 1A120290 | 5 | With plastic straps* | 100 | 18002929104165 |
| 1,00x2 | Brown | 1A120292 | 5 | With plastic straps* | 100 | 18002929104189 |
| 1,00x3 | Green | 1A120299 | 5 | With plastic straps* | 75 | 18002929104257 |
| 1,00x3 | White | 1A120291 | 5 | With plastic straps* | 75 | 18002929104172 |
* Packs are thermofilmed, have plastic straps and their ends are protected with cardboard protections