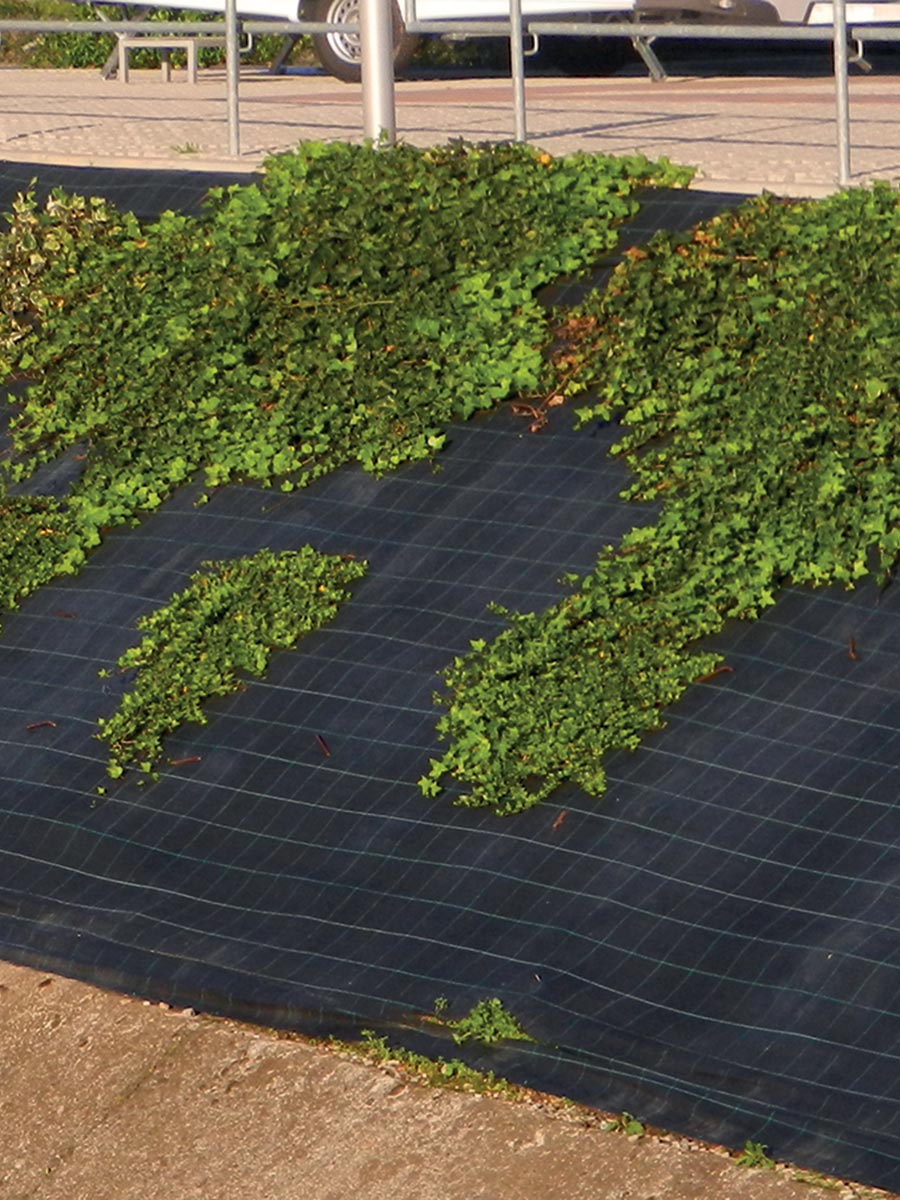 Made in Italy
COVER PRO BLACK
Black professional fabric for mulching
COVER PRO BLACK
Black professional fabric for mulching
DESCRIPTION

USE-ADVANTAGES

SIZE

INSTALLATION
Heavy-duty, polypropylene fabric
Professional fabric for mulching, very thick but not waterproof, it protects and warms the roots and prevents the development of weeds, ensuring the quality and cleanliness of crops and reducing maintenance. Since it weighs 105 g/m², is very durable and can be walked on. The particularly robust structure makes it ideal on slight slopes, where it helps to prevent soil run-off. It is also perfect for flowerbeds, hedges and paths. With 15 cm green squares to help positioning the plants.
New size 1,60×5 m in bags.
WARNING: Avoid the use of Sulphur Phytosanitary Agricultural Compounds on this mesh.  Excessive or long term exposure to such compounds will cause deterioration of the mesh.
Features

Weed control fabric for gardens
Weed control fabric for planting plants in paths and flowerbeds
Mulching of slight slopes
Perfect for ground cover plants
Suitable also as runner in vegetable gardens
Weight: 105 g/m²
100% virgin raw material for the best performance
It does not deform, does not tear, is very durable and can be walked on
High UV resistance for maximum strength and colour stability
The black colour is extremely homogeneous and uniform, guaranteed over time
Micro-perforation ensures excellent permeability, preventing the growth of weeds
With 15 cm green squares
It does not deform and does not tear
It is very durable and can be walked on
It is squared to help positioning the plants
Maximum strength and colour stability
It reduces the use of weedkillers and pesticides
It keeps the level of humidity constant, thus the soil must be watered less frequently
It protects the soil from erosion and from compaction caused by rain, leaving the soil soft
It supports the growth of roots and plant well-being
It reduces thermal shocks
Consumer information
| SIZE [m] | COLOUR | PACKAGING | EAN |
| --- | --- | --- | --- |
| 1,60x5 * | Black | Bag | 8002929120458 |
| 0,52x100 | Black | Roll | 8002929071330 |
| 1,05x100 | Black | Roll | 8002929056047 |
| 1,65x100 | Black | Roll | 8002929056054 |
| 2,10x100 | Black | Roll | 8002929056061 |
| 3,30x100 | Black | Roll | 8002929056078 |
| 4,20x100 | Black | Roll | 8002929056030 |
| 5,25x100 | Black | Roll | 8002929056085 |
Trade information
| SIZE [m] | COLOUR | CODE | PACKS/SELLING UNIT | SELLING UNIT | SELLING UNITS/PALLET | EAN 14 |
| --- | --- | --- | --- | --- | --- | --- |
| 1,60x5 * | Black | 1A160213 | 10 | Box | 35 | 18002929120455 |
| 0,52x100 | Black | 1A050087 | - | Roll | 50 | 18002929071337 |
| 1,05x100 | Black | 73050609 | - | Roll | 25 | 18002929056044 |
| 1,65x100 | Black | 73050619 | - | Roll | 25 | 18002929056051 |
| 2,10x100 | Black | 73050629 | - | Roll | 25 | 18002929056068 |
| 3,30x100 | Black | 73050639 | - | Roll | 16 | 18002929056075 |
| 4,20x100 | Black | 73050649 | - | Roll | 16 | 18002929056037 |
| 5,25x100 | Black | 73050659 | - | Roll | 16 | 18002929056082 |
Remove weeds from the ground+
Lay the COVER PRO weed control fabric
Fasten it to the soil using U STAPLES or PROFESSIONAL METAL STAPLES
Cut the fabric where you want to place the plants
Fold the corners of the cut fabric inwards to create enough space to place the plants
Transplant the plants
Water the transplanted plants around the stems