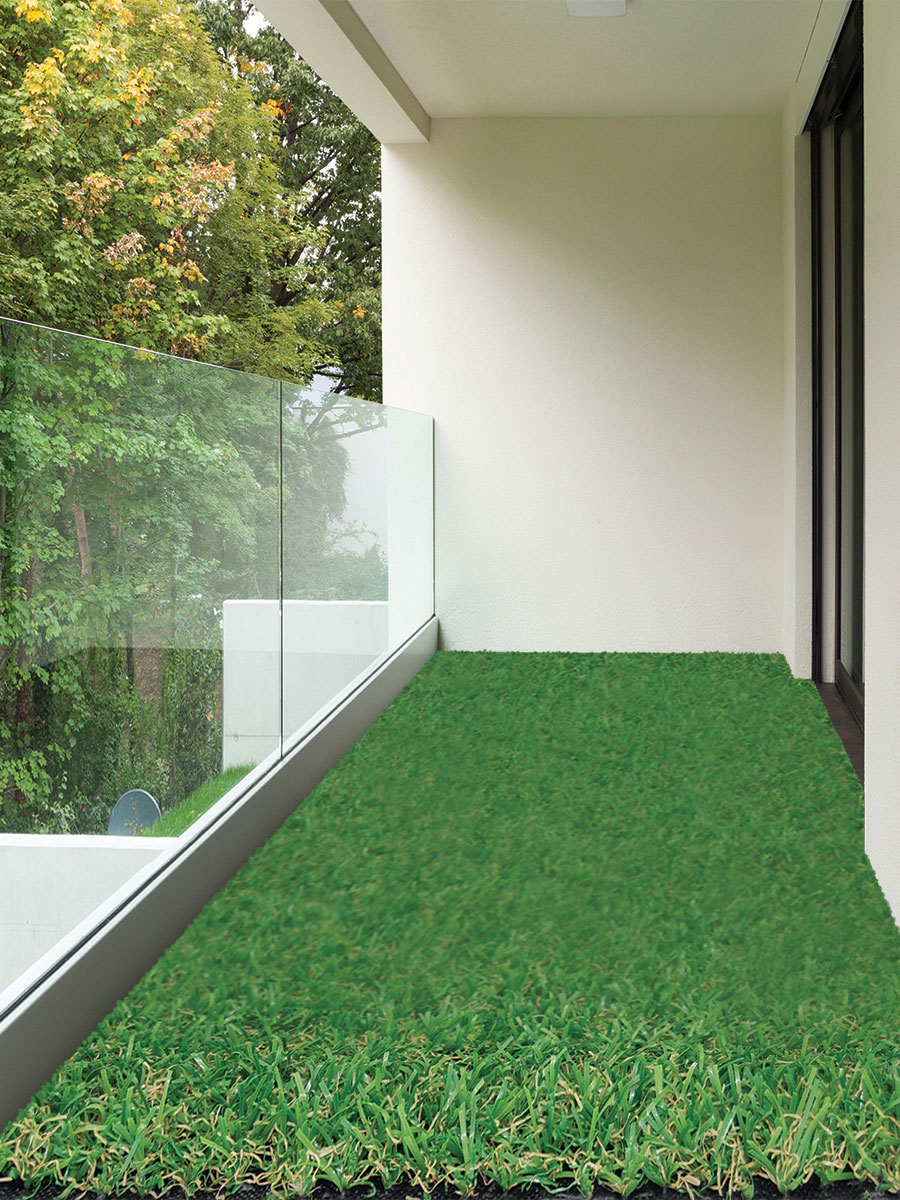 IRISH MAT 20
Versatile and with short fibres, it is suitable for very large surfaces
IRISH MAT 20
Versatile and with short fibres, it is suitable for very large surfaces
DESCRIPTION

USE-ADVANTAGES

SIZE

INSTALLATION

download
High quality and natural effect like a real lawn
Tenax IRISH MAT synthetic lawns are made of high-quality virgin materials without heavy metals and they feature a high natural effect.
They are made of High Density Polyethylene (HDPE) and Polypropylene (PP) synthetic blades stitched onto a draining backing which ensures a strong anchoring and the drainage of excess water. Indeed, on the backing at the base of the lawn, there are holes that drain water effectively (drainage capacity: 60 l·min/m²).
These synthetic lawns are long-lasting and heavy-duty and their colour is guaranteed for 8 years. Once installed, your synthetic grass will be beautiful and perfect for a long time.
IRISH MAT 20, composed of tufts of short yarns in different shades of green, guarantees maximum functionality, cost-effectiveness and low maintenance. Its shorter but natural-looking fibres are always orderly effortlessly.
Features

Colours

Always green and resistant to weather elements in any season, the artificial lawns of the IRISH MAT Line are perfect for renovating gardens, terraces and balconies while offering original and very stylish solutions for a green area in unexpected zones, such as the interior of houses, projecting roofs, roofs and basement windows.
Thanks to its chlorine resistance and to the low maintenance it needs, synthetic grass is an ideal and beautiful solution for restaurants, hotels, public places, but also playgrounds and gardens, where it is used in an original way to create carpets for outdoor areas, runners or poolside.
Maximum natural effect: Guaranteed by the optimal choice of colour shades and to the shortest PP yarns, brown like roots, that increase the natural look.
"MAT" effect: It further improves the appearance of the synthetic lawn, giving it a natural effect
Luxuriant appearance guaranteed by the yarn thickness and by the high number of blades per m²
"SPINE SHAPE" yarn: It provides the lawn with great softness and excellent heat management (the lawn disperses more heat and heats up less)
Excellent "SPINE SHAPE" resilience: Yarns have an excellent shape memory (they stay upright). Sand infilling considerably improves this feature.
In-line spinning: Makes the yarn of the IRISH MAT Line highly tear and trample resistant
Latex backing: Increases its softness while holes drain excess water (drainage capacity: 60 l·min/m²)
Produced only from virgin and metal free material for maximum quality and security
8 year warranty on the whole IRISH MAT Line
Ideal for pets which are perfectly at ease on the synthetic grass and relax without risking being tormented by parasites that usually live in real grass
Perfect for children due to their high softness and their limited overheating
The synthetic lawns of the IRISH MAT Line do not attract insects or mosquitoes
They resist chlorine, seawater, sun and bad weather
Perfect in any season, they resist frost and drought
They can be easily washed with water and neutral detergents
They do not require too much maintenance
They reduce water consumption
Consumer information
| SIZE [m] | COLOUR | PACKAGING | EAN |
| --- | --- | --- | --- |
| 1x3 | 4 shades of gr/br | Roll | 8002929127044 |
| 1x3 | 4 shades of gr/br | Promobox (35 Rolls) | 8002929127044 |
| 2x10 | 4 shades of gr/br | Roll | 8002929126191 |
| 2x25 | 4 shades of gr/br | Roll | 8002929126207 |
Trade information
| SIZE [m] | COLOUR | CODE | SELLING UNIT | PACKS/SELLING UNIT | SELLING UNIT/PALLET | EAN 14 |
| --- | --- | --- | --- | --- | --- | --- |
| 1x3 | 4 shades of gr/br | 1A180303 | Roll | 1 | - | 18002929127041 |
| 1x3 | 4 shades of gr/br | 1A180421 | Promobox (35 Rolls) | 35 | - | 18002929127041 |
| 2x10 | 4 shades of gr/br | 1A180305 | Roll | 1 | - | 18002929126198 |
| 2x25 | 4 shades of gr/br | 1A180306 | Roll | 1 | - | 18002929126204 |
TENAX offers resellers display solutions both for self service (display stands for mini rolls) and for assisted sale with bulk rolls.
Lawn displays and totem displays show all the advantages of the Tenax IRISH MAT range supporting sales, while consumers can see the high quality and natural effect of TENAX artificial lawns first-hand thanks to samples.
Installing a synthetic lawn is quite simple, so you can do it autonomously on a small surface but it is better to call a skilled professional (gardener) for more complex installations (large surfaces, numerous cuts and joints) that require particular ability.
TENAX has created a video tutorial and simple guidelines that explain step by step how to install your turf in the right way, distinguishing between the installation on the ground and on a floor.
Go to the "Installation" section or watch the video tutorial below.