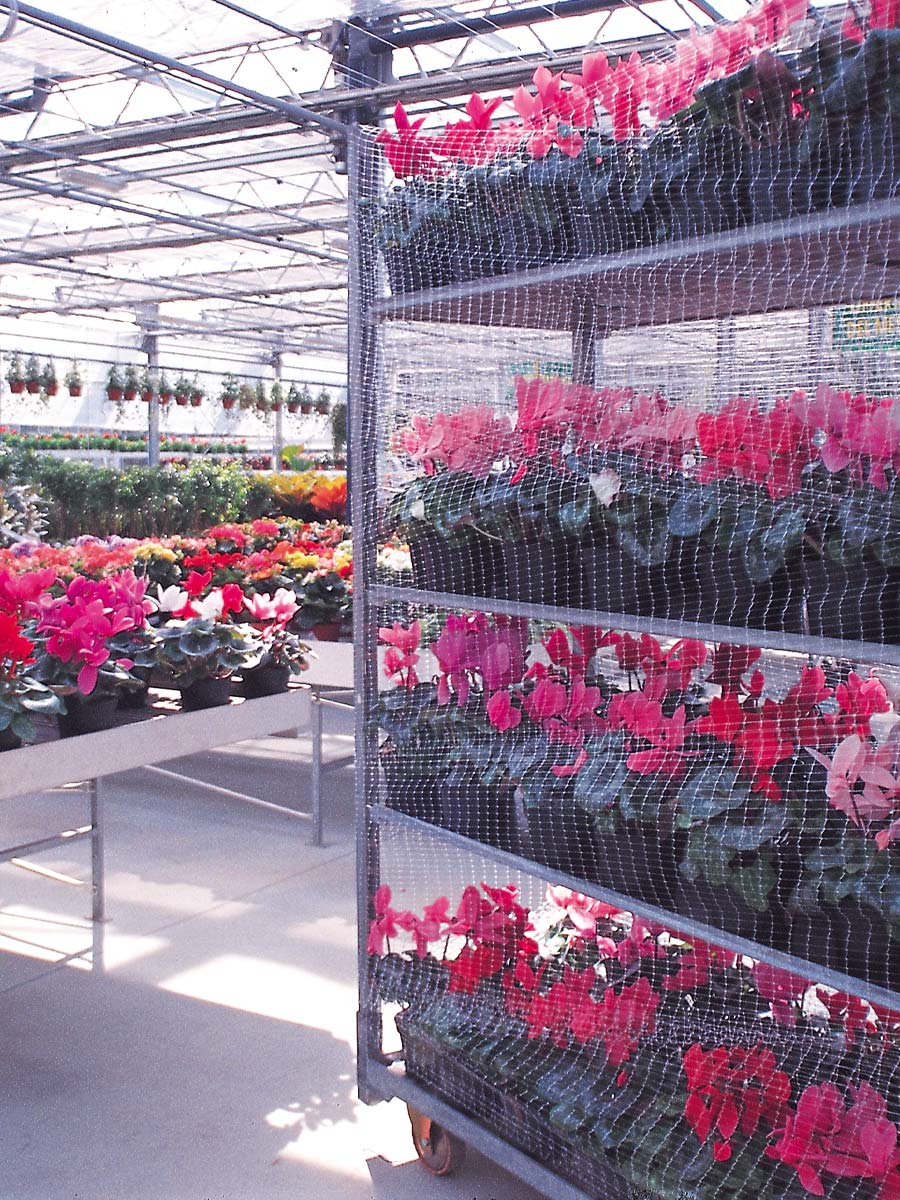 A 3- A 9
Pallet nets: Advantageous solution and an alternative to macro-perforated films and woven nets
A 3- A 9
Pallet nets: Advantageous solution and an alternative to macro-perforated films and woven nets
DESCRIPTION

USE-ADVANTAGES

SIZE
A 3 and A 9 polypropylene (PP) pallet nets offer nurserymen and flower growers an alternative and advantageous solution to wrap pallets of plants or flowers in comparison with traditional macro-perforated films or woven nets. Available in neutral colour or red, they can be used "vertically" with automatic palletisers allowing a lot of air and light to pass through, which are fundamental for the correct upkeep of stored flowers and plants.
Light and inexpensive, they feature great tensile strength thanks to the exclusive process of molecular bi-orientation ("stretching") by TENAX, they are run-resist and offer high dimensional stability, therefore they provide an absolutely valid protection for plants during transportation.
NOTES: All the meshes are available with a minimum order quantity.
Features

Ideal for transportation and storage in greenhouses and nurseries:
Wrapping pallets of plants and flowers
Rectangular mesh: 65 x 20 mm (A 3), 65 x 40 mm (A 9)
Weight: 8,4 g/m² (A 3), 9 g/m² (A 9)
Bi-oriented nets
Highly permeable to light and air
High mechanical tensile strength
Light and run-resist
Inexpensive
| SIZE | HEIGHT [m] | LENGTH [m] | MESH SIZE [mm] | COLOUR | CODE | EAN |
| --- | --- | --- | --- | --- | --- | --- |
| A 3 | 0,3 | 2000 | 65 x 20 | Neutral | 75003200 | 8002929013507 |
| A 3 | 0,5 | 1000 | 65 x 20 | Neutral | 75034600 | 8002929042934 |
| A 3 | 0,5 | 2000 | 65 x 20 | Neutral | 75003600 | 8002929013514 |
| A 3 | 0,5 | 2000 | 65 x 20 | Red | 75003603 | 8002929013521 |
| A 9 | 0,5 | 1500 | 65 x 40 | Neutral | 75060530 | 8002929058065 |
| A 9 | 0,5 | 2000 | 65 x 40 | Neutral | 75060600 | 8002929013613 |
| A 9 | 0,5 | 2200 | 65 x 40 | Neutral | 75060900 | 8002929054852 |
| A 9 | 0,4 | 2000 | 65 x 40 | Red | 75060663 | 8002929045362 |
| A 9 | 0,5 | 2200 | 65 x 40 | Red | 75060903 | 8002929056528 |
A 3 – Weight: 8.4 g/m², Mesh type: Rectangular
A 9 – Weight: 9 g/m², Mesh type: Rectangular
NOTES: All the meshes are available with a minimum order quantity