DESCRIPTION

USE-ADVANTAGES

SIZE

INSTALLATION
High screening level and prevention of dust leakage
White anti-dust Polypropylene (PP) mat to screen scaffolding, with aluminium eyelets on the selvedges to ease its fastening and installation. Its 100% screening prevents the dust from coming out and guarantees a total covering of the scaffolding. It is especially suitable at the bottom of the scaffolding in areas where there are many pedestrians.
IMPORTANT! In order to install covers compliant with legal requirements, you must calculate the wind load to correctly size the scaffolding anchoring.
Scaffolding covering
Ideal at the bottom of the scaffolding and in areas where the presence of many pedestrians is expected.
Highly screening mat
It avoids the spread of dust
Provided with aluminium eyelets on the selvedges for its fastening
Light and easy to install
High screening
Competitive price
Reusable
Trade information
| SIZE [m] | COLOUR | CODE | SELLING UNIT | PACKS/SELLING UNIT | SELLING UNITS/PALLET | EAN 13 |
| --- | --- | --- | --- | --- | --- | --- |
| 1,80x25 | White | 1A150045 | Box | 6 | - | 8002929114907 |
Installation for scaffolding covering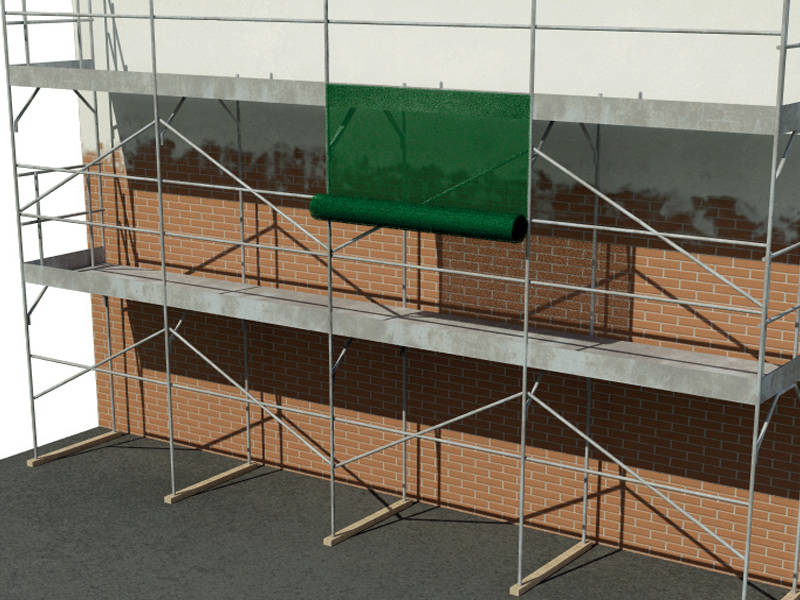 Unroll the reel from the top to the bottom
Fasten the net with ties using the eyelets
IMPORTANT! Always size the scaffolding considering the sail load generated by the wind on covers.