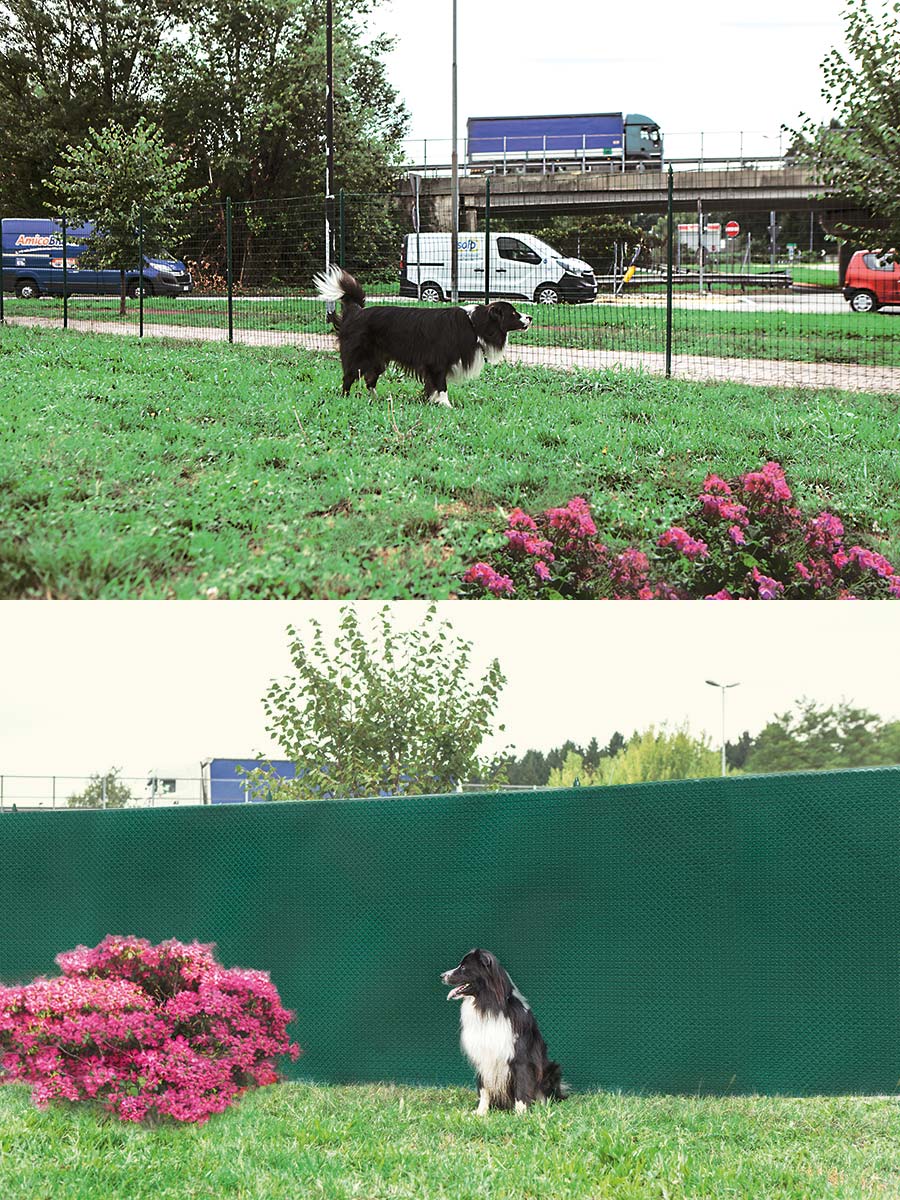 Made in Italy
BERMUDA
Total screening in a plastic net and non-woven fabric
BERMUDA
Total screening in a plastic net and non-woven fabric
DESCRIPTION

USE-ADVANTAGES

SIZE

INSTALLATION
Screens and avoids causing stress to your dog
Your dog may be exposed to stressful inputs such as the passage of pedestrians or vehicles. Even the presence of other animals in neighboring fences, could make the dog restless and stressed.
To prevent this from happening and, at the same time, to screen your garden, the screening net PET BERMUDA is the ideal solution. This total screening, applicated on a support structure (fabric side to face the fence),avoid exposing your dog to continuous stress due to the passage of cars, pedestrians and other animals. Moreover, the reinforcing plastic net prevents your dog and your animals to escape through gates, fences or balconies.
An extruded diamond net, bonded to a thick fleece fabric: the fabric offers effective screening whilst the mesh offers support and reinforcement. Finished with reinforced and decorative edge, it is non-toxic and doesn't harm the animals.
Features

The BERMUDA woven net is widely used in gardens or terraces, installed vertically as screening or shielding against wind, or in courtyards and vegetable plots, hung horizontally to protect outdoor areas and vehicles against sunlight.
Avoid exposing your dog to continuous stress due to the passage of cars, pedestrians and other animals
Prevents your dog and your animals to escape through gates, fences or balconies
It is ideal for dividing gardens and courtyards
It is also perfect for screening balconies and terraces, allowing free air circulation
It is used to create pleasant private areas and shaded corners
Suitable also for building fences for courtyard animals
Fence made up of two thermo-welded PE meshes
It combines a rigid extruded high density polyethylene net with a highly covering non-woven fabric
750 g/m²
Approved by professionals dog trainers
Non-toxic, it does not hurt your animals
Two products in one: fencing plus screening
Decorative
It is UV treated and keeps its colour over time
Finished with decorative rigid edge
Total screening (100%)
High tear resistance
Easy and quick to install
Consumer information
| SIZE [m] | COLOUR | PACKAGING | EAN |
| --- | --- | --- | --- |
| 1,00x3 | Green | Mini roll | 8002929115157 |
| 1,50x3 | Green | Mini roll | 8002929115119 |
Trade information
| SIZE [m] | COLOUR | CODE | PACKS/SELLING UNIT | SELLING UNIT | SELLING UNIT/PALLET | EAN 14 |
| --- | --- | --- | --- | --- | --- | --- |
| 1,00x3 | Green | 1A150067 | 6 | Box | 14 | 18002929115154 |
| 1,50x5 | Green | 1A150063 | 2 | Box | 12 | 18002929115116 |