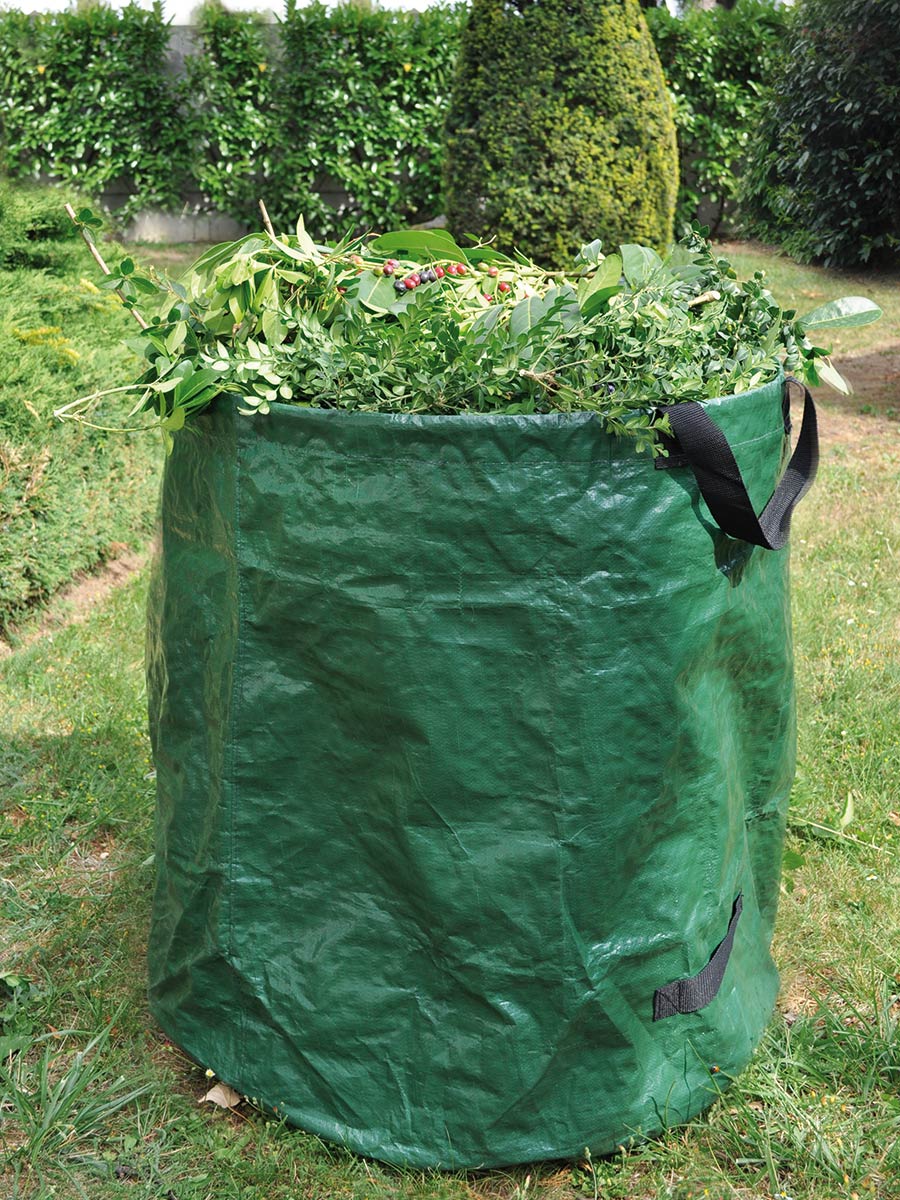 SKIP BAG MAXI
Maxi PVC bag
DESCRIPTION

USE-ADVANTAGES

SIZE
Big impermeable bag for gardening
Big PVC bag for collecting leaves, branches, grass and other garden residues.
Provided with a rigid core to be inserted into the upper edge, which gives greater rigidity and keeps the bag open while loading and unloading leaves. It has a 250-litre capacity and a round base. It is equipped with handles to move it, is heavy-duty and reusable.
Features

SKIP BAG MAXI is a bag made of heavy-duty PVC: it resists heavy loads and is not perforated by twigs or undergrowth. Due to these reasons and to its high capacity, it is perfect for gardening.
It is ideal for collecting leaves, branches, grass and other garden residues
It allows shrubs, leaves and other material to be better loaded and unloaded
Made from PVC
Capacity: 250 l
With round base
Diameter: 65 cm
Height: 75 cm
Supplied with a rigid core to be inserted into the upper edge
Equipped with resistant handles
Impermeable and heavy-duty
Light and easy to use
It can be folded and stored after using it
Its pack can be hung
Extremely capacious
Provided with a rigid core to be inserted into the upper edge, which gives greater rigidity and keeps the bag open
Consumer information
| SIZE [m] | COLOUR | PACKAGING | EAN |
| --- | --- | --- | --- |
| ø0,65x0,75 | Green | Bag | 8002929099716 |
Trade information
| SIZE [m] | COLOUR | CODE | PACKS/SELLING UNIT | SELLING UNIT | SELLING UNITS/PALLET | EAN 14 |
| --- | --- | --- | --- | --- | --- | --- |
| ø0,65x0,75 | Green | 1A110420 | 10 | Box | 88 | 18002929099713 |